Understanding the offer overview is key to making smart sourcing decisions with Profit Bandit.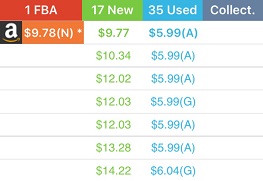 The Offer Overview shows you the number of offers for each condition, as well as a selection of those offers.
Note that Profit Bandit doesn't display every offer, but it will display the lowest offers that are returned to us through Amazon's API.
Seeing all Offers

Tap one of the column headers to be taken directly to the Amazon offers page to see all offers for that condition.
Note: You can also use the ALL FBA button to quickly see all FBA offers for that item.
Asterisks, the Amazon Icon and Orange Highlights
If you see an offer with an asterisk, that is the offer that has the buy box.
An offer highlighted in an orange box (with the Amazon logo next to it) is an offer from Amazon themselves.
Important Note: Amazon doesn't always have the buy box!
Letters in Parentheses
These refer to condition:
(R) - Refurbished
(A) - Acceptable
(G) - Good
(VG) - Very Good
(LN) - Like New
(N) - New 
Not what you were looking for?