Profit Bandit's History saves everything that you scan.
To access your history, click the clock icon at the bottom of Profit Bandit's home screen.

Your history will look like this: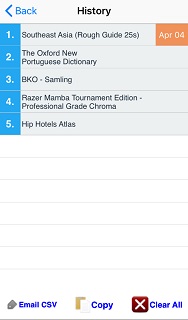 You will see the scans you made today on top, and older scans will be further down the page.
Exporting History
If you would like to export your history, you can either email it to yourself or copy it to the clipboard.
If emailed, you will receive it as a CSV file that contains the following columns:
Timestamp
Barcode/ASIN
Title
If copied to your clipboard, you will receive the same data, but can paste it into an app like Evernote, or a text field in Safari.
Note: Your entire history is stored locally on your phone. If you need to uninstall/reinstall Profit Bandit, your history will be lost.
Improving Performance by Clearing History
We recommend that you back up and/or clear your history once a week or so. This can help Profit Bandit scan more quickly and crash less.
Not what you were looking for?