Did you choose 'SellerEngine Plus + FBA'  for License Type, when signing up for SellerEngine Plus? If so, then all you need to do is go to File > Preferences > Amazon information, and in this screen choose 'SellerCentral+FBA'.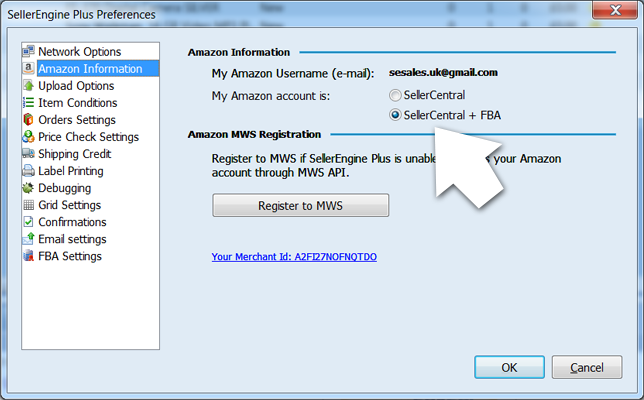 If you still can't get FBA options it must mean that your license type is nonFBA. You'll need to upgrade to a +FBA license to enable FBA Shipments Manager, Quick Add, and all other FBA options and features.
To do that first you need to cancel your current nonFBA license then subscribe to a new, +FBA one. Please follow steps below:
• Log in to your account here; if you don't have the password you can reset it here.  NOTE: Your Seller Engine account email may be different from your Amazon account email.
• Scroll to the bottom of the page to find your previous license, check license type and if it doesn't have "+FBA" at the end click the 'Cancel subscription' button then continue on to PayPal to finish unsubscribing;
• Go back to your account on sellerengine.com and click the "Subscribe to a new SellerEngine Plus license" link at the bottom of the account page;
• Select your license type from the dropdown as "SellerEngine Plus for Amazon US/UK/DE +FBA" and continue on to PayPal to finish setting up the new subscription.
You'll get another free trial for this new +FBA license so you don't need to worry about getting charged.