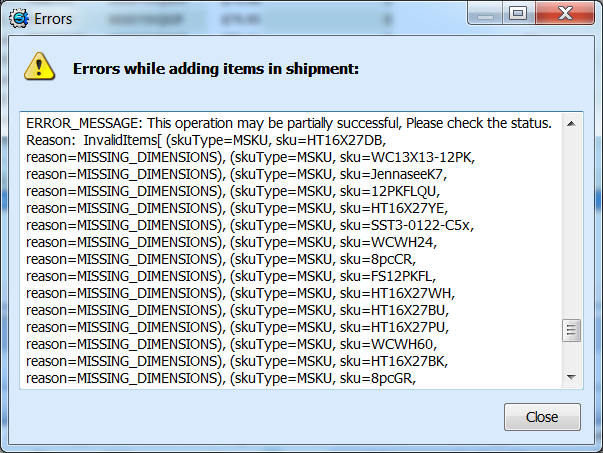 The Missing Dimensions error message means that dimensions are not specified in the Amazon catalog pages for the items you want to add. These dimensions are required before any seller can add these items to FBA shipment.
You need to go to Seller Central and add dimensions for the items first before you can add them to shipments in SE Plus.
Here are the steps needed to correct the Missing Dimensions error message:
1. If the item is already in your inventory on Amazon go to SellerCentral Inventory Tab, select "Manage Inventory", if it isn't upload it as Merchant fulfilled from SE Plus;
2.  Select the item causing the error from your FBA Inventory via the checkbox;
3. Select the 'send/replenish' option from the drop-down list and press the 'Go' button;
4. Continue through the dialog, adding a quantity of 1 if needed, until you are asked for the products dimensions;
5. Add dimensions and press the 'Next' button to the Create Shipment page; from this page simply press 'Cancel' - this will bring you back to the main FBA Inventory page.
6. In SE Plus, select the item right-click on the item and click the 'Add to Shipment' option.