Scheduled Repricing is a feature that gives sellers the ability to plan pricing strategies based on different time frames in advance. You can set up these strategies in the Pricing Overview section.
Each Pricing Overview mapping of any Smart List and Pricing Rule has a link, dubbed 'all days, all hours'/ you can click on to schedule. You will know a schedule has been saved because the Overview row will display text with a brief description of the schedule set, as shown in the screenshot below: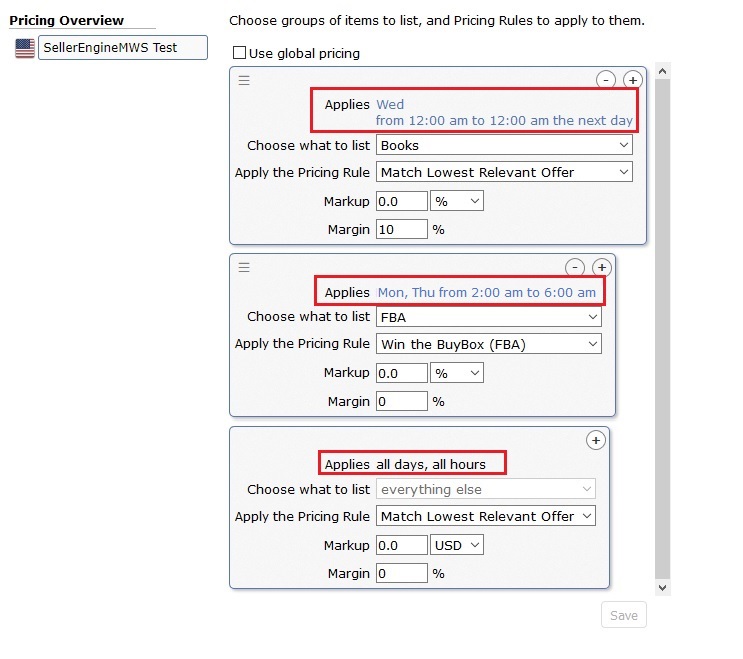 To schedule a specific pricing cycle, select the days of the week and the hours you want it to be active, with the from/to drop down menus and click 'OK'. The drop-down menu will display time frames of every half-hour.

In order to reset the scheduler to reprice continuously, use the 'Clear' option.
The schedule dialog also displays a description of the time periods covered by the selected values and a warning regarding the possible latency in Amazon's upload processing time.

If the scheduler is not set up, the following message will be displayed: 'all days all hours'.
The time zone displayed for every scheduled repricing row is your default time zone. You set up the default time zone that will be used throughout the application under Settings > General.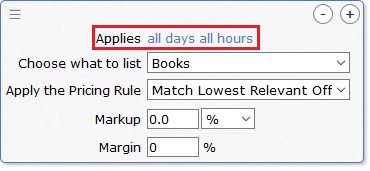 Sellery will continue to apply these Pricing Overview rules from top to bottom, on a first come, first served basis and using the time frames you have selected for the repricing scheduler.
Examples:
If you're looking to use a specific pricing rule to reprice your books on weekends (or you just want to increase the margin/markup), you'll need to create a Pricing Overview mapping for your books Smart List with the appropriate Pricing Rule (or adjust the margin/markup accordingly) and set the scheduler to act on this from Saturday to Monday morning.
You will create another pairing for your books Smart List and a Pricing Rule and your regular margin/markup and set up the scheduler to apply it at all times, meaning that, during the weekdays, your items will be priced accordingly.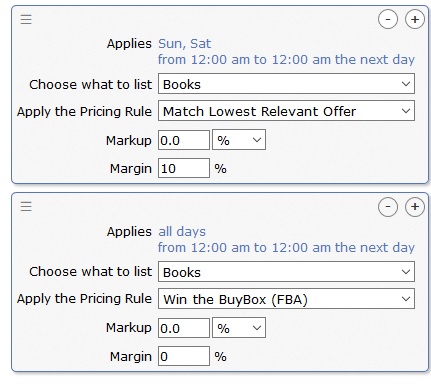 Here's how the scheduler looks when you activate it to price your items in a specific way, from Monday to Wednesday, compared to how it looks when you activate it to price your items in a specific way, on Mondays and Wednesdays only.