FBA Inventory Age Category hosts a group of smart lists that will inform you on the age of your inventory in the FBA warehouses. This insight is extremely important as it gives you details about which products perform poorly, stay in the warehouses for long periods of time and incur long term storage fees - products you might not want to restock in the future and assign an accelerated sale strategy versus products that have less than 90 days in warehouse thus indicating they are good candidates to be restocked.
The Smart Lists under FBA inventory age are:
Has product 0 - 90 days old

Has product 91 - 180 days old

Has product 181 - 270 days old

Has product 271 - 365 days old

Has product 365 or more days old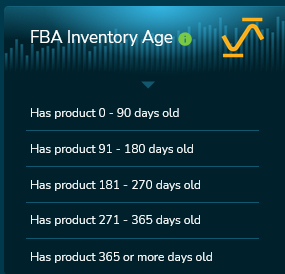 How is it calculated:
Items in the inventory are grouped by FBA age (how long they have been at an Amazon warehouse).