After you scan an item in Profit Bandit, you need to understand the results you receive.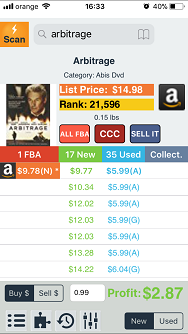 Staring at the top of the screen, here is what you will see:

The Scan Button - Tap here to scan a barcode.
Manual Search - Type keywords here to manually look up an item by title, UPC, ASIN or keywords.
Item Details - Sales Rank, List Price and more.
Offer Overview - See the offers and their conditions returned by Amazon. 
Restricted Item Alert - Shows you when an item you scan cannot be listed for sale on Amazon.
Profit Calculation - Understand how Profit Bandit calculated your profit and adjust your Buy/Sell Price. Tap the profit amount to see the profit calculation breakdown.
At the bottom of the screen, you'll see icons for your Buy List, Bluetooth Plugin, History and Profit Bandit's Settings.
Not what you were looking for?